Like all charities, The Friendship Project relies on donations from the general public for a significant amount of its income. If you can spare even just a pound or two to help towards our valuable contribution to society, then please do feel free to contact our trustee Fundraiser, Richard Barrett (richard.barrett@friendshipproject.co.uk).

The Friendship Project have partnered with The Charities Trust, a leading donations management company established in 1987, so as to provide opportunities for payroll giving, sponsorship, and credit card payments. The links for this are as follows:-
Payroll Giving
For individuals, you will need to check if your employer offers payroll giving. This is the link to where you can find out and where they can find out more and download the relevant forms > http://www.charitiestrust.org.uk/payroll-giving-individual/
Sponsorship – Online Fundraising – Sponsor Me
If you wish to run a campaign or event to raise funds for the Friendship Project, then it's Sponsor Me. Fundraising pages can be created by companies (http://www.charitiestrust.org.uk/sponsor-me-employer/) or individuals (http://www.charitiestrust.org.uk/sponsor-me-individual/).
Match Funding 
Matching employee giving is one of the best ways to increase employee engagement and boost an employee's donation. Many organisations offer it as part of their Corporate Social Responsibility (CSR) programme and we have lots of experience in running schemes. This is the link for more information >http://www.charitiestrust.org.uk/match-funding-employer/
One off Card donations
To make one off card donations to the Friendship Project, donors can use this link https://www.sponsorme.co.uk/your-donation/mydonation.aspx?CR=CT52669&CN=The%20Friendship%20Project&PR=1000
Shopping via easyfundraising
We're now registered with easyfundraising, the UK's biggest charity shopping fundraising website. This website allows us to receive donations directly from brands when you use the site to shop with all your favourite stores online.
It's completely free and easy to use and a great way for you to support us when you're shopping online without it costing you a penny!
Register here today http://efraising.org/rtPKzAh2X9 or scan the QR code below.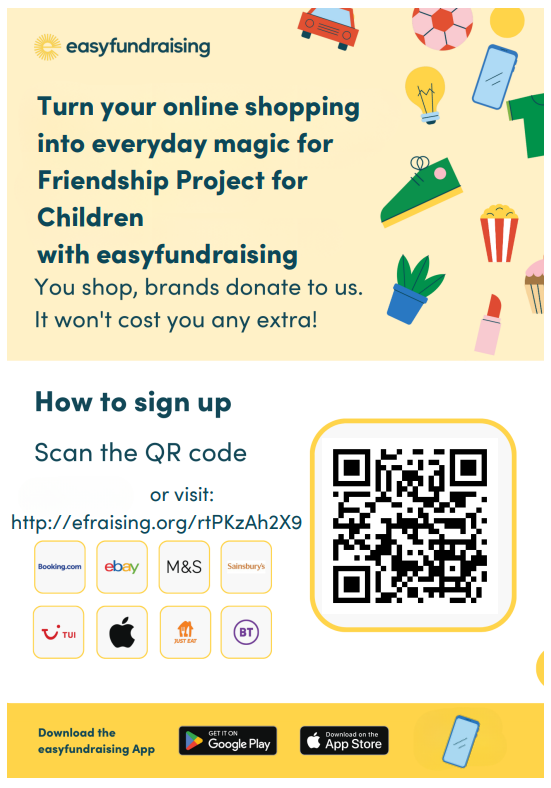 Cheques – can be made payable to The Friendship Project for Children and posted to:
Cheryll Rawbone – Chairman, c/o  20 Northumberland Road, Leamington Spa, Warwickshire, CV32 6HA.
We'd like to say a huge thank you to those individuals, companies, and other organisations – some of whom are annual donors – who have given and continue to give so generously to The Friendship Project to support our valuable work.